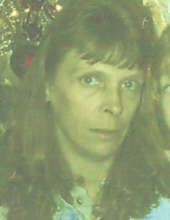 Obituary for Jeanette Huffman Shoemaker
Jeanette Huffman Shoemaker, 48 years of age of North Jackson, OH, passed away February 3, 2018 after a sudden illness in St. Elizabeth Hospital in Youngstown, OH. Born February 25, 1969 in Grundy, VA, she was the daughter of the late Edgar Huffman and Chloe Rowe Helton.

Jeanette grew up in Hurley, VA, attended Hurley High School, and has spent her life undertaking the most important endeavor of any parent, taking care of her grandchildren Autumn and Noah. She was of the Christian faith, a loving wife, mother, grandmother, sister and niece.

In addition to her parents, she was preceded in death by her maternal grandparents Troy Earl Rowe and Alice Blankenship Rowe, paternal grandparents Virginia and Ellis Huffman, sister Patricia Huffman, brothers Clifford Huffman and Danny Huffman.

Her brother Ricky Darrell Huffman passed away March 15, 2018.

Survivors include her husband Kevin Shoemaker of North Jackson, OH; grandchildren Autumn and Noah Shoemaker of the home; son Justin Shoemaker and wife Melania; daughter Patricia Shoemaker of VA; grandson D. J. Shoemaker of Morgantown, WV; sisters Juanita Huffman Stiltner of Davenport, VA, Lisa Hope Stacy Blankenship of Wolford, VA; brother Henry Edgar Huffman of Pulaski, TN; special aunt Flora Rowe Dotson of Hurley, VA, several nieces, nephews, a host of family and friends and special friend Debbie Lester.

Memorial service for Jeanette Huffman Shoemaker will be held at the Knox Creek Church Of God in Hurley, VA, Wednesday, May 2, 2018 at 6:00 p.m. with Reverends Henry Rowe and Mike Ashby officiating. Burial will be at a later date in the Eli Blankenship Cemetery in Hurley, VA.

The family wishes to extend a special thanks to Gary S. Silvat and Staff at Cremation and Funeral Service in Youngstown, OH and Shortridge-Ramey Funeral Home and Staff in Grundy, VA.

Online condolences may be sent to www.cremateohio.com and www.shortridgeramey.com.

Shortridge-Ramey Funeral Home of Grundy, VA is proud to serve the family of Jeanette Huffman Shoemaker.
Previous Events
Memorial Service
Knox Creek Church Of God
Main Knox Road
Hurley, Virginia 24620
Cemetery Details
Location
Eli Blankenship Cemetery
Main Knox
Hurley, Virginia 27620