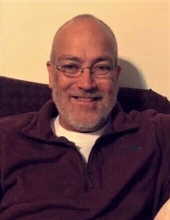 Obituary for Marty Owens
Marty Allen Owens, 54 years of age of Grundy, VA, left his earthy home behind in exchange for Angel wings on Tuesday, July 23, 2019 concluding a long battle with cancer. Born October 13, 1964 he was the son of Clyde and Flornia Compton Owens of Vansant, VA.

Marty was loved by all who knew him. He was a beloved family man, always put his family first and did everything he could to support his wife and children in all their endeavors. Marty was also a beloved community member. He never turned away from someone who needed his help and always went out of his way to help others in every way possible, day or night. He will surely be missed by all; however, he has now left his suffering behind, and as a child of God, can find everlasting peace. He was of the Old Regular Baptist Faith, having been baptised July 6, 2019 in the Levisa River. A loving son, husband, father, and friend.

Marty is preceded in death by his maternal grandparents Effie and Corbett Compton, paternal grandparents, Noah Shannan and Hettie Owens, and several aunts and uncles.

In addition, he will no longer have to mourn the loss of his best friends and brothers, Ernie Owens and Bryant Owens, as they will be there to greet him as he is finally able to rest.

Those left behind to keep his memory alive include his loving wife of thirty-four years Anita McClanahan Owens of Grundy, VA; parents Clyde and Flornia Compton Owens of Vansant, VA; daughters Kristy McCowan and husband Josh of Blacksburg, VA, Kaitlyn Grimes and husband Brandon of Wise, VA; son Hunter Owens of Grundy, VA, two others he considered his own Hannah Owens and Robert Owens of Norton, VA.

Also left to carry on his memory include many aunts, uncles, cousins, nieces and nephews, friends and family.

Please join the family in honoring Marty Owens at the Shortridge-Ramey Funeral Home Chapel in Grundy, VA, Saturday, July 27, 2019 at 1:00 p.m. with Elders Eddie Newsome, Austin Bradley, Jimmy Yates, Jim Blankenship, and James McClanahan officiating. Burial will follow in the Clyde Owens Family Cemetery on Square Oaks Road in Vansant, VA.

Active pallbearers will be Derek Blankenship, Joshua Shelton, Buck Stevens, Robert Owens, Chris Woods, Daniel Stiltner, and Shawn Blankenship.

Honorary pallbearers will be Brandon Grimes, Josh McCowan, Sheldon Woods, Hunter Owens, Dr. Clint Sutherland, Dr. David Schiff, Dr. Mark Shaffery, Nurse Becky Estep and all the nurses of Legacy Hospice.

The family will receive friends at the Shortridge-Ramey Funeral Home Chapel of Grundy, VA, Friday, July 26th after 6:00 p.m. with an evening service to be held at 7:00 p.m.

Online condolences may be sent to shortridgeramey.com.

The family of Marty Owens have entrusted the care of their loved one to Shortridge-Ramey Funeral Home of Grundy, VA.
Previous Events
Visitation
Shortridge-Ramey - Grundy
1021 Six Twentey Mile Branch Road
Grundy, VA 24614
Services will be held at 7:00 p.m.
Funeral Service
Shortridge-Ramey - Grundy
1021 Six Twentey Mile Branch Road
Grundy, VA 24614
Cemetery Details
Location
Clyde Owens Family Cemetery
Square Oaks Road
Vansant, Virginia 24656