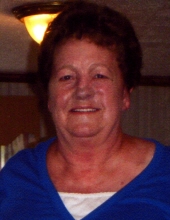 Obituary for Jean Evelyne Horn Keene
Jean Evelyne Horn Keene, 74 years of age of Contrary, VA, passed away Wednesday, April 18, 2018 at Johnston Memorial Hospital, Abingdon, VA. Born March 19, 1944 in Keen Mountain, VA, she was the daughter of the late Wesley Horn and Polly Elizabeth Horn.

Jean was a volunteer for Oakwood Volunteer Fire and Rescue and an EMT for over twenty years. She was a former employee of Dixie Cafeteria and Tastee-Freeze. She enjoyed painting, quilting and gardening. A loving wife, mother, grandmother and sister.

In addition to her parents, she was preceded in death by her brothers Paul and Ellis Horn and several infant siblings.

Survivors include her loving husband of fifty-four years Squire William Keene, Jr. of Contrary, VA; daughters Monica Obrist and husband Philip of New Castle, VA, Patricia Church and companion Don Brooks of Glade Hill, VA; sister Ollie Horn of Contrary, VA; brothers Grady Horn and Silas Horn both of Marvin, VA; granddaughter LeAnna Ratliff and husband Race of Fincastle, VA; several nieces and nephews.

A Celebration of Life Service for Mrs. Jean Evelyne Horn Keene will take place on Saturday, July 7, 2018 at the Keen Mountain Park Shelter #3 from 11 A.M. until 3 P.M. The family would love for friends and family to come and fellowship with them and reminisce about the life and legacy of Jean Keene.

Online condolences may be sent to www.shortridgeramey.com.

The family of Jean Evelyne Horn Keene have entrusted the care of their loved one to Shortridge-Ramey Funeral Home of Keen Mountain, VA.
Previous Events
Memorial Service
Keen Mountain Park
2090 Buchanshire RD
Raven, VA 24639
Shelter #3