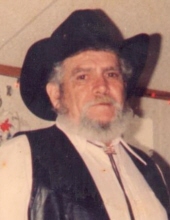 Obituary for James "Cowboy" Ervin Tackett
James "Cowboy" Ervin Tackett, 75 years of age of Raven, VA passed away on Thursday, May 24, 2018. He was born on May 9, 1943 in Jenkins, KY.

James was an avid outdoorsman and could be found sitting outside from sunrise until sunset. He enjoyed listening to music and hearing his 'Little Bear' play his guitar.

Survivors include his caretakers whom he lived with, James Casey and Cathy Stilwell of Raven, VA and his grandchildren of the heart Berry "Little Bear" Stilwell and Thomas "His Buddy" Stilwell. He is also survived by many special friends including John Underwood and Jack Bandy.

There will be no formal funeral services for Mr. James "Cowboy" Ervin Tackett. His family and friends will hold a memorial service for him on a later date.

Memorial condolences may be viewed at www.shortridgeramey.com.

The family of James "Cowboy" Ervin Tackett have entrusted the care of their loved one to Shortridge-Ramey Funeral Home of Keen Mountain, VA.