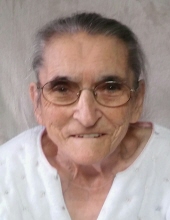 Obituary for Goldie Marie Blankenship Horn
Goldie Marie Blankenship Horn, 89 years of age of the Clifton Fork section of Buchanan County, VA, went to be with the Lord, Thursday, October 25, 2018 at 9:48 p.m., after a long battle with Alzheimer's Disease, at her home with several members of her family by her side. Born February 20, 1929 in Clifton Fork, VA, she was the daughter of the late Ada and Louise Cantrell Blankenship.

Before her sickness, Marie enjoyed quilting, cooking, gardening and canning. She was loved by everyone and a member of the Wilderness Tabernacle Church. A loving mother, grandmother, sister and friend.

In addition to her parents, she was preceded in death by her husband John Randolph Horn, Sr., son Troy Dale Horn, daughter Lullie Mae Horn Viars, brothers Harvey Blankenship, Johnnie Blankenship, Jermar Blankenship, Jay Blankenship, Noah Boyd, Frank Boyd, Hiram Boyd, Lincous Blankenship and Acie Blankenship; sisters Roxie Blankenship, Nancy Blankenship Hale, Julie Blankenship Street, Ebie Blankenship Penley, Jane Blankenship Rowe, Sarah Boyd Sparks, Cindy Boyd McGlothlin, Lennie Boyd Mitchell Cole, Nellie Boyd Corns and Little Jenny Blankenship; great-grandchildren Christopher Truman White and Urijah Alexander Hale, and one great-great granddaughter.

Those left to cherish in her memories are her daughters Shirley White and husband Marvin of Falmouth, VA, Goldie Blanton and husband David of Brodhead, KY, Helen Compton and husband Tim and Jessie Matney and husband Bobby all of Raven, VA; sons Ray Horn and wife Hester, John Randolph Horne, Jr., and wife Kathy all of Raven, VA, Jerry Horne and wife Anna Ruth of Roanoke, VA, Frankie Dean Horn and wife Linda of Pineville, KY, Jimmy Horn and wife Merinda of Horn Mountain, VA.

She is also survived by twenty-two grandchildren, twenty-four great grandchildren, six great-great grandchildren and several step-grandchildren.

The family wishes to extend a special thanks to two special care givers: Shirley Short and Juanita Keen.

Funeral service for Goldie Marie Blankenship Horn will be held at the Shortridge-Ramey Funeral Home Chapel of Keen Mountain, VA, Sunday, October 28, 2018 at 2:00 p.m. with Brothers Bill Harrison and Troy Lester officiating. Burial will follow in the Horn Family Cemetery on Clifton Fork Road, Raven, VA.

Active pallbearers will be her grandsons: Freddie Horn, Matthew Horne, Shane Viars, Zachary Compton, Paxton Matney, Greg Browning and Ryan Browning.

Honorary pallbearers will be her grandchildren, Helping Hands nursing staff and members of The Wilderness Tabernacle Church.

The family will receive friends at the Shortridge-Ramey Funeral Home Chapel of Keen Mountain, VA, Saturday, October 27, after 6:00 p.m. with evening service to be held at 7:00 p.m.

Online condolences may be sent to www.shortridgeramey.com.

The family of Goldie Marie Blankenship Horn have entrusted the care of their loved one to Shortridge-Ramey Funeral Home of Keen Mountain, VA.
Previous Events
Visitation
Shortridge Ramey - Keen Mountain
1020 Big Skeggs Road
Oakwood, VA 24631
Funeral Service
Shortridge Ramey - Keen Mountain
1020 Big Skeggs Road
Oakwood, VA 24631
Cemetery Details
Location
Horn Family Cemetery-Clifton Fork
Clifton Fork Road
Clifton Fork Road
Raven, VA 24639