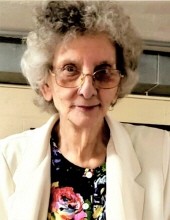 Obituary for Etta Ruth McGlothlin Justus
Etta Ruth McGlothlin Justus, 82 years of age passed away Monday, July 1, 2019 in Pikeville Medical Center, Pikeville, KY. She was formerly of Big Rock, VA, but had made her home in Richlands, VA with her daughter, for the past four years. Born September 9, 1936 in Vansant, VA, she was the daughter of the late William Howard "W. H." McGlothlin and Pearl Leah Dales McGlothlin.

Etta was a member of the House of Prayer in Big Rock, VA, loved to visit the sick and shut-in, especially at nursing homes, enjoyed cooking and sewing, but most of all, loved the Lord. A loving mother, grandmother and friend.

In addition to her parents she was preceded in death by her husband Charlie Justus, sons Timothy Justus, Jason Adam Justus, Harrison Howard Justus, several brothers and sisters.

Survivors include her daughter Lora Justus Hankins and husband Allen of Richlands, VA; son Robin McGlothlin and wife Shelia of Vansant, VA; half-sister Nell Branham of Grundy, VA; brother Frank McGlothlin of Grundy, VA; grandchildren: Brandon Hankins and wife Faith, Kensey Hankins and wife Adrienne, Robin Kyle McGlothlin and wife Krissie, Tyler McGlothlin, great-grandchildren: Aleea Hankins, Toy Hankins, Abigail McGlothlin, Ashton McGlothlin, several nieces, nephews and friends.

Funeral service for Etta Ruth McGlothlin Justus will be held at the Shortridge-Ramey Funeral Home Chapel of Grundy, VA, Thursday, July 4, 2019 at 11:00 a.m. with Pastor Raymond Lester, Reverend Paul Dotson and Reverend Gary Sutherland officiating. Burial will follow in the Mountain Valley Memorial Park of Big Rock, VA.

Active pallbearers will be her family and friends.

The family will receive friends at the Shortridge-Ramey Funeral Home Chapel of Grundy, VA, Wednesday, July 3, 2019 at 6:00 p.m. with evening service being held at 7:00 p.m.

Online condolences may be sent to www.shortridgeramey.com.

The family of Etta Ruth McGlothlin Justus have entrusted the care of their loved one to Shortridge-Ramey Funeral Home of Grundy, VA.
Cemetery Details
Location
Mountain Valley Memorial Park
32355 Riverside Drive
Big Rock, VA 24603