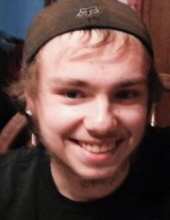 Obituary for Dustey Allen Clevinger
Dustey Allen Clevinger, 22 years of age of Vansant, VA, passed away Tuesday, April 3, 2019 in Pikeville Medical Center, after a courageous battle with diabetes. Born April 20, 1996 in Richlands, VA, he was the son of Lora Ratliff Clevinger of Vansant, VA, and the late Ricky Allen Clevinger.

Dustey was an avid outdoorsman and enjoyed riding four wheelers. He was a loving son, grandson, father and brother.

In addition to his father, he was preceded in death by his maternal grandfather Carmel Ratliff and nephew Kevin Lee Clevinger.

Survivors in addition to his mother Lora Ratliff Clevinger of Vansant, VA, include his son Jensen Allen Clevinger of Vansant, VA; sister Elizabeth Clevinger of GA; paternal grandparents Vernel and Evon Clevinger of Vansant, VA; maternal grandmother Gail Ratliff of Vansant, VA; and a host of friends.

A memorial service for Dustey Allen Clevinger will be held at a later date.

Online condolences may be sent to www.shortridgeramey.com.

The family of Dustey Allen Clevinger have entrusted the care of their loved one to Shortridge-Ramey Funeral Home of Grundy, VA.