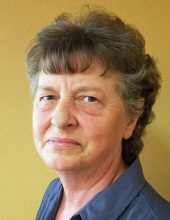 Obituary for Della Mae Deel Fuller
Della Mae Deel Fuller, 59 years of age, of Vansant, VA, passed away on Friday, June 7, 2019 in Dante, VA. Born November 19, 1959, in Grundy, VA, she was the daughter of the late Glen and Truley Deel.

Della was of the Old Regular Baptist faith and attended Mountain View Old Regular Baptist Church in Birchleaf, VA and she worked at the Hardee's restaurant in Grundy, VA as the manager serving the community for the last 35 years. She enjoyed camping, traveling and loved spending time with her family. A loving wife, mother, step-mother, sister, step- grandmother, sister-in-law, aunt, and friend.

In addition to her parents, she was preceded in death by two sisters, infant Ines Marie Deel and Barbara Ellen O'Quinn; one niece, Ashley Lester; father-in-law, Roy Fuller; and three brothers-in-law, Nathan Edwards, Ron Fuller, and Charlie Mitchell.

Those left to cherish her memories include her daughter, Danielle Fuller of Vansant, VA; husband, Donald Fuller of Cedar Bluff, VA; two step-daughters, Jenny (Pat) Austin of Council, VA and Kristen (Elliotte) Ratliff of Clintwood, VA; four sisters, Janice (Jerry) Deel and Betty O'Quinn Mitchell both of Haysi, VA, Polly (Ralph) Lester and Alcie (Bernice) O'Quinn both of Vansant, VA; her mother-in-law O'leda Jo Keith of Clintwood, VA; step-mother-in-law, Julia Fuller of Breaks, VA and a sister-in-law, Pam (Alfred) Yates of Breaks, VA.

She is also survived by three step-grandchidren, Tyler, Kadence, and Allen; and several nieces and nephews.

Funeral services will be conducted Wednesday, June 12, 2019 at 1:00 p.m. at the Mountain View Ole Regular Baptist Church in Birchleaf, VA, with Elders, Andy Deel, Denny Deel, Danny O'Quinn, and Mark Justice officiating. Burial will follow in the Mountain View Old Regular Baptist Church Cemetery.

Serving as pallbearers will be Burnice O'Quinn, Jerry Deel, Terry O'Quinn, Randy Abshire, Justin Crabtree and Ryan Carter. Honorary pallbearers will be Elliotte Ratliff, Patrick Austin, her brothers-in-law, and nephews(in-law).

Friends may visit with the family at the church Tuesday, June 11, 2019 beginning at 5:00 p.m. where evening service will be held at 6:00 p.m.

The family would like to request that if anyone has a 4x6 photo of themselves with Della to please bring it to the services, they will have boards there and would like to add the photos to it so that everyone will be able to enjoy the photos and reminisce with stories about her life.

Online condolences may be sent to www.shortridgeramey.com.

The family of Della Mae Deel Fuller have entrusted the care of their loved one to Shortridge-Ramey Funeral Home of Grundy, VA.
Previous Events
Visitation
Mountain View Old Regular Baptist Church
Rakes Ridge
Haysi, VA 24256
Evening services will begin at 6:00 pm.
Funeral Service
Mountain View Old Regular Baptist Church
Rakes Ridge
Haysi, VA 24256
Cemetery Details
Location
Mountain View Old Regular Baptist Church Cemetery
Rakes Ridge
Haysi, VA 24256