Our staff's commitment to you
Our staff is committed to providing support, compassion, information, and direction as needed to all members of our community, their families, and friends who are dealing with loss and grief.
Shortridge Ramey - Keen Mountain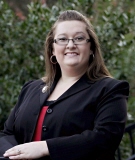 Amanda A. Horn Keen
Funeral Director / Embalmer / Manager
shortridgeramey@gmail.com
Amanda Keen is a native of the Oakwood area, she grew up in the Marvin area and graduated with honors from Twin Valley High School in 2008. She married, Adam Keen of Oakwood and they live in Claypool Hill, VA with their daughter, Ella and their two engligh bulldogs, Buster and Dutchess. Amanda attended Southwest Virginia Community College and went on to the Cincinnati College of Mortuary Science where she received a Bachelors Degree in Mortuary Science.
Amanda is of the Pentecostal Faith and has been a member of Oakwood Full Gospel all her life. She loves to do Volunteer work and help others whenever she can. She enjoys spending time with her family, traveling with her husband and daughter, and playing with her Bulldogs Buster and Dutchess.
Amanda is a second generation mortician and after shadowing her mother, she knew that her calling in life was to become a Funeral Director so she could help families in need and be with them during their greatest time of sorrow.