Our staff's commitment to you
Our staff is committed to providing support, compassion, information, and direction as needed to all members of our community, their families, and friends who are dealing with loss and grief.
Shortridge-Ramey Funeral Home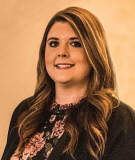 Stephanie Lester
Funeral Director/Embalmer
Stephanie Lester is a native of the Buchanan County area, she grew up on Panther Ridge and graduated from Grundy Senior High School in 2006. She is married to Adam Lester and they live in the Vansant area with their two daughters Kelseigh and Ryleigh and canine companion Piper.
She loves to help and volunteer her time as much as she can in the community. She serves on the Little League board at her daughter's school, Twin Valley Elementary/Middle, and can be spotted attending their various sporting events, as she loves watching them play. In her spare time, she enjoys spending time with her husband, daughters, and family as often as possible. They enjoy to travel, but their favorite place to enjoy together is the beach.
She attended Southwest Virginia Community College where she graduated from the Registered Nursing program in 2018. After obtaining her license as a nurse, she decided to further her education and attended Pittsburgh Institute of Mortuary Science where she graduated in January of 2022, which she could have not done without the support of her husband, daughters, and family.
She enjoyed caring for others in the nursing role, but after losing her own mother she felt she could do more. She wanted to return the same level of care and kindness that was shown to her in her time of sorrow. Knowing there was a need in the funeral industry for more female Funeral Director's she decided to return to school and complete her degree. She is the first person to attend mortuary school in her family and wanted to stay close to home. She truly loves Buchanan County, the people, and the sense of community it offers.
After the care she received from Shortridge-Ramey Funeral Home when her mother passed, she contacted Douglas Shortridge about an internship and has been there in the Funeral Intern role since March of 2021. She feels that Shortridge-Ramey is truly family serving family, as the owners and employees have become close to heart and an extension of her family.
She will continue her career as a Funeral Director at Shortridge-Ramey and feels it is her true calling. She hopes that she can serve her families with the same kindness and compassion that she was shown herself.